Realizing our desires takes discipline, determination and decisiveness.  Talk is truly cheap! In this  short Facebook Live video  you may discover some inspiration that reveals how symbolism can assist you in making valuable contributions to our subconscious mind. Using visual images for meditation can help  create a stronger connection with the superconscious or Divine Mind.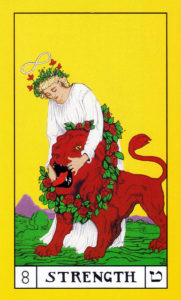 Each tarot key has an astrological attribution.  "Strength" Key 8 is the zodiac sign Leo. This  is my personal card, that I reflect on regularly, since my birthday is July 30, 1952. But  Key 8 can provide a deeper understanding of the relationship between the self-conscious and subconscious mind.
Our desires can be like wild beasts, running wild in our mind, without any restraint or direction.  As we learn to direct that energy of the desire beast, you can then harness its power for our benefit. Take a listen and leave me some comments.  I love feedback!
10 minute of Tarot tips on Key 8 the Strength key!

Posted by Francesca Simon on Thursday, August 17, 2017