Thursday Night Tarot is a book  every  serious tarot student or Qabalah initiate, should have in their library.  It is a collection of talks, directed by Jason C. Lotterhand,  an Initiate of the mystery school Builders of the Adytum (B.O.T.A).  The book serves as one of our textbooks for "Charting Your Course" — an internet radio, which explores esoteric knowledge of astrology, numerlogy, qabalah, sound, color and mysticism.  The show airs on Revolution Radio in Studio B on Sunday nights from  10 pm to Midnight on Revolution Radio at Freedomslips.com   
Since we are currently exploring the tarot Lotterhand's book is a perfect resource.  Lotterhand  was a member of B.O.T.A., founded in the 1920s by Paul Foster Case.
Builders of the Adytum explains its purpose on its website:  "Adytum is the Greek word for Inner Shrine or Holy of Holies. Like Jesus, who many believe was trained in Qabalah, members of the Order aspire to build the Inner Temple, to construct the Holy of Holies within. People of all faiths are welcome to study the teachings of this Order. B.O.T.A. recognizes Qabalah as the root of Judaism and Christianity. Its ultimate purpose is to hasten the true Brotherhood of mankind and to make manifest the truth that love is the only real power in the universe."
Don't be concerned about the difference in the spelling  — cabala or qabalah — the truth is the same.  "The Cabala states that nothing exists outside The One Divine Being, The One Self of the universe, Lotterhand says.  "We are part of that, even if we are totally ignorant of our relationship with it.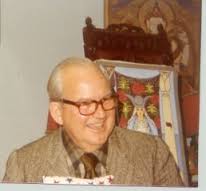 "Insofar as we become acquainted with this truth about ourselves, says Lotterhand (photo above), "we come to realize the Divine Presence in our lives…. All our studies and all our meditations bring us to a clearer vision of the Divine Self, whose creations we are. Once we are established in this awareness, we can proceed along our own individual paths of purpose and expression. Freed from delusions concerning what life is about, we can concentrate our efforts on being our own true selves-successful members of the Divine Plan."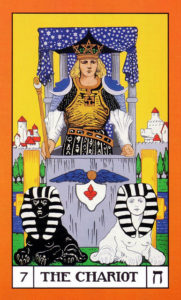 Join us tonight as we discuss
"The Chariot" Key 7