"We've been waiting so long, We've been waiting for the sun to rise and shine…."
I had church in my home after the eclipse on Monday — with Todd Rundren.  Coming inside, after sitting outside watching the eclipse, I was still reflecting on its symbolical meaning.  How could I maintain positive  thinking  in light of the discouraging shadow covering our country.
"Shining still to give us the will…"
Todd Rundgren, a master musician, innovative producer and musical mystic, has been singing songs of hope since the 1960s.  And the truth of his lyrics ring true now more than ever. Still in a state of deep reflection, I turned on Todd tunes on Roku and settled in to do some writing.  His music soothes me.
"Can you hear me, the sound of my voice?"
But as soon as I heard his voice singing "Just One Victory" the tears began to fill my eyes and emotions choked in my throat.  I had watched the shadow of the moon momentarily cover the Sun, only partially in Sarasota, Florida, where I live.  And I was still remembering the progressing of the Moon's passing until it was only a tiny spot on a corner of the Sun.
"I am here to tell you I have made my choice…."
I had made a decision in my morning meditation, that I would no longer refer to President Donald Trump as #45 or in any other way dehumanize or deny his humanity.  He too has a hole where he keeps his soul.  And from now on that is where I will focus my attention as I pray that he will awaken and get in touch with what Rosicrucians call the "Master Within" — that divine spark that resides within every human heart.  As Todd sings, "How can I change the world when I can't change myself. Try again tomorrow."  I played "Just One Victory" — again.
"I've been listening to what's been going down"
The past ten days have been a painful reminder for me of the segregation that I experienced as a young girl in Bowling Green, Kentucky in the 1950s, when I legally could not attend the brand new school  across the street from my house.  My grandmother, a cleaning woman,  did not own a car, so I walked the three or four miles to school — actually crawled and walked.  I lived near a railroad track and so when the stock cars were on the tracks, I would have to crawl under the trains to get to school or on the way back from school. I can still recall the smell of tobacco leaves, as a passed a warehouse on my journey.  My grandmother, Mamma Maude, smoked a corncob pipe, so I could sometimes pick up a leaf or two been dropped on street.
Oh, by the way, Parker Bennett School was about 0.2 miles from our house on 511 Ida Street — no indoor plumbing, no running water, wood burning stoves supplied by "wood chopping" Francesca.  I recalled the memory of being cold and having to break the ice in the bowl of water to wash my face each morning, before I began building the fire for the pot-bellied stove in the living room. The tears began flowing.  Played "Just One Victory" — again.
"You may think that I'm a fool, but I know the answer. Take the golden rule, as the best example. Eyes that have seen will know what I mean…"
Dr. Martin Luther King said that love was the answer.  I believed him. And yes, I still believe him.  Religiously raised at New Bethel Baptist Church in Bowling Green and singing in the choir from the age of seven, the power of Love was instilled in me from fiery sermons in the pulpit. And I can still hear those  gospel hymns in my head. Those  words of love  were a comfort in a segregated southern town, where I could only sit in the balcony section, when I had the rare blessing  to go to a movie.
"Words become a tool, anyone can use them…"
Here it is over 50 years later — yes, I'm 65-years-old — and it appears that I have stepped back into a time warp, where the word "nigger" is being hurled as an insult — again.   I can't stand the sound of that word — I heard it too much as a child! I hate hearing it in rap songs, because I know its true root.  And I know the hurt and humiliation that comes with that word being spat upon you. Tears were flowing faster so I played  "Just One Victory" — again.
"We've been so downhearted, we've been so forlorn"
When I heard the news of the Charlottesville protest war it made my heart hurt.  Had I woke up in a daylight nightmare? Could this still be happening.  Like so many I felt so downhearted and forlorn.  But I knew I had to snap out of it! But what could I do!?  Hadn't I fought hard enough though prejudice in the 70s, 80s and 90s and into the 21st century?
And yet I was still battling it in Sarasota, Florida, when my arrival in a restaurant would send a manager scurrying to see what I wanted. Just a few months ago, I sat down at an outside table on Main Street at a restaurant. "Are you going to eat?," the waitress demanded.  My hair slicked back in a bun, I had on makeup, but I wasn't wearing my pearls — that was my mistake.  "Why would I be sitting here if I wasn't going to eat," I said in a puzzled voice, that was just loud enough for a few people sitting close by to hear me.
I had already gone to the trouble of going to the host to inform him that I wanted to sit outside. He had told me I could sit anywhere.  But when the waitress arrived, I guess she had decided that I must have been wandering around and decided to take a rest.  Once I asked the  for the wine list, and proceeded to question her on which cabernet sauvignon was more "fruit forward" and whether a particular riesling was "dry" her tone changed.  Since she didn't understand my question, upon her return with answers from the bartender, she was my best friend.  I was crying out loud by now. Played  "Just One Victory" — again.
"Prayin' for it all day and fightin' for it all night
Welcome to the Age of Aquarius, Francesca. The struggle is real — the world is in transition to a new level of consciousness — inspite of the current dark shadow. From a mystical point of view, I know it is only a cycle — history repeating itself. Still got to keep prayin' and fightin' — I tried to walk off the tears, but the faucet was on full force.  So I just sat down with my head in my hands and sobbed. I played "Just One Victory" –again.  Tears, tears, tears, flowing. Sobs, loud and broken. Then I looked up, swiping away tears, and I saw Todd's smiling face.  He was only 30-year-old back in 1978 when he was singing that song.  He had witnessed America's race riots, he knew the state of the country then and now.  That's why he had been inspired to write these timeless songs.  I smiled. Played "Just One Victory" — again.
"Give us just one victory, it will be all right"
Then it dawned on me that Todd must be tired too.  Yet he is still touring, teaching at schools, and still working in his own melodic way to bring the change he has been singing about for over 50 years.  And he is still wearing that same smile.  When I was blessed to met him this past May in Tampa, Florida, during the White Knight Tour, an aura of compassion, patience, love and hope enveloped me, in his embrace.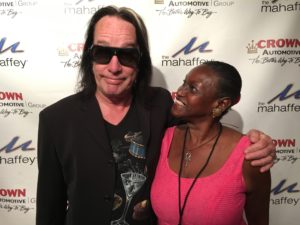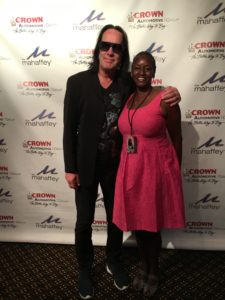 You can feel it when you're in his presence and he is still smiling. Thanks for the reminder Todd Rundgren — I have the will! God bless you for your dedicated service to humanity. We are grateful and hopeful! Onward and Upwards! xoxoxo